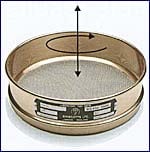 The primary purpose of a sieve shaker is to provide motion to a sample in a test sieve.
An effective sieve shaker creates a motion that presents all the particles to all of the sieve openings and assists particles in passing through. This requires both rotary and vertical motion.
This process seems simple enough, but let's not be taken in.
Read More