Viscosity Testing with Cutting Edge Technology
A new development in viscosity testing equipment. This electromagnetic viscometer, the EMS-1000, features small sample viscosity determination, contact-free tests and temperature controlled processing.
Tests are performed on a small sample ( 300µL or 700µL) contained in a disposable tube. These EMS-1000 features are achieved by an electromagnetic spinning method. Magnets are positioned around the sample tube to create a rotating magnetic field. This field moves a small aluminum sphere placed in the sample.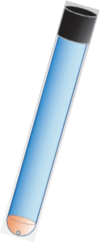 Testing with the EMS-1000 requires no clean-up. Both the sample tube and aluminum sphere are disposable, so once a test is complete, all you have to do is throw away the sample tube. This is ideal for products which require testing in a sterile environment, and for preventing cross-contamination between products or samples.
The EMS-1000 provides temperature control between 0 to 200oC. Measurements can also be performed at elevated pressures.
A CMOS camera lets you see what's happening to your product during the test, making it easy to observe coagulation or detect impurities.
The sealed measuring cell equips the EMS-100 to accurately measure volatile, toxic, or air-sensitive samples.
Product Specifications
Method of Measurement

Electro Magnetically Spinning Method (EMS)

Viscosity Measuring Range

with 2mm sphere: 0.1-100,000 cP

with 4.7mm sphere: 10-1,000,000 cP

Measurement Accuracy and Repeatability
RSD 3% (according to KEM's standard measuring conditions)
Minimum Sample Amount

with 2mm sphere: 300µL

with 4.77mm sphere: 700µL

Temperature Range and Stability

Range: 0-200oC (the ambient temperature must not exceed 20oC for measurements at temperatures less than 10o

Stability: +/- 0.1oC

Motor Speed Range and Stability

Range: 500-1,000 rpm

Stability: +/- 3%

Ambient Conditions

Temperature: 10-30oC

Humidity: 85% RH max (no condensation)

Storage Conditions

Temperature: -20 - 60oC

Humidity: 85% RH max (no condensation)

Power Supply, main unit
AC 200-220V +/- 10% or AC 100-120V +/- 10%
Power Consumption, main unit
Approx 150W (MAX 600 W)
Dimensions
374(W) x 347(D) x 335(H) mm
Weight
Approx. 24kg