When you look at History, unusual happenstance is often the basis for important and pervasive happenings. The discovery and evolution of the Karl Fischer Moisture Titration is an example.
Karl Fischer the Man
First, what is it? Karl Fischer Titration is a method or technique for measuring moisture content. It is an important measurement of water content. One example is testing for moisture in oils.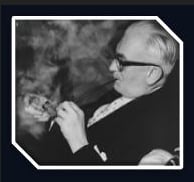 Other applications include solvents, plastics and adhesives. Today the method would be sorely missed if it wasn't around.
The name sake for this method, Karl Fischer, grew up in Munich, Germany. From an early age he was an experimenter. He had a chemical laboratory in his bedroom. Included among the chemicals he fooled with, was highly explosive nitroglycerine. Somehow he did not blow up the family home.
Sulfur Dioxide, Iodine and Pyridine
Karl survived his adolescent investigations and in 1925 he got a PhD in Chemistry. Soon after he was employed by a Chemical Company that specialized in the use of liquid sulphur dioxide. As part of his work there he proposed a breathtakingly simple titration. A titration of Sulfur Dioxide, Iodine and Pyridine that used up water. This titration becomes known as the Karl Fischer Method.
in concept, a test sample containing water has high electrical conductivity. The sample when combined with the Sulfur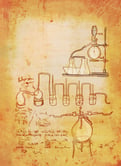 Dioxide, Iodine and Pyridine results in a mixture called a Karl Fischer reagent. This reagent converts the water to a component with a very low conductivity. The amount of the reagent needed to get to this low conductivity relates to the amount of water in the sample.
This discovery was noteworthy because in the1920's, the petroleum industry had a problem with the detection of small amounts of water. Until the Karl Fischer Titration, the only technique available to this industry was the Dean-Stark Distillation. A cumbersome process that only worked for large volumes of water.
The original Karl Fischer Method, which has sensitivities down to a few milligrams of water was embraced by the Petroleum Industry. It became the method of choice.
Electro or Coulometric Chemistry and Automation
Until 1959, the Karl Fischer Moisture test was manual. In that year two electrochemists at Oak Ridge National Lab concluded that Iodine could be generated at a platinum electrode. An endpointcould be detected by a current change between two identical electrodes. The amount of generating current needed to get to the endpoint ( reduction of conductivity) was related to milligrams of water.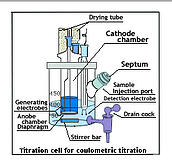 That discovery was the start of Coulometric Karl Fischer. The coulometric method provided important features: it was automated, It was fast, and it could detect as little as one microgram of water.
Like the original Karl Fischer Titration, the Petroleum industry was the principal user of this new Coulometric technique.
Karl Fischer Titration Solves Some Loss on Drying problems
Historically, Loss on Drying techniques provided the lion's share of moisture measurement. This involves measuring the difference in weight before and after drying.
However, products with bound water, products containing very small amounts of moisture, and products with volatiles, such as alcohol, present significant challenges for Loss on Drying.
By using solvents for these tough products, a liquid test sample is created that contains all water in the specimen. The Karl Fischer Titration is then run to get a moisture reading.
Some

products do not have an effective solvent., To cope with this difficulty, a procedure was developed using a high temperature oven. Moisture in the sample is driven off. The resulting water vapor is carried by a dry inert gas to a Karl Fischer cell. A Karl Fisher Titration is done to determine the amount of water that was collected in the cell.
Using the concept of flowing a wet gas into the titration cell, a similar procedure is used to measure the moisture content of gases.
The Original KarlFischer Method Was Not Patented
Because the Karl Fischer Titration was never patented, the application of the method to new industries and products grew unheeded.
The petroleum industry continued to be a major users of the the titration. As understanding of the Karl Fischer Method broadened, a wide range of industries adopted Karl Fischer including:
Plastics where very small amounts of moisture are critical.

Food processing for products where Loss on Drying is not effective.

Pharmaceutical substances

that not adaptable to other moisture analysis methods.

Chemical compositions the require a titration approach to get at bound water.
Summary
The Karl Fischer method is a titration of Sulfur Dioxide, Iodine and Pyridine that uses up water. From its inception in 1925, Karl Fischer Titration has become an ever increasing solution to tough moisture measurement problems.
Because it separates moisture from other components and only measures the water, it is a very specific analysis.
Hope that you found this caper through history interesting. Please share it with colleagues who are working with moisture analysis.
Until our next unmasking.
Art
P.S. You can subscribe to our articles and newsletters by placing your email address in the space to the right of the title. out
P.P.S. Before you go -- Check out one of the easiest to use and simplest Coulometric Karl Fischers.
-