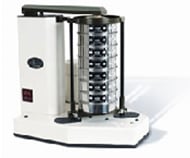 Is Sieve Calibration Really the Holy Grail? Part II: Inside a Sieve Test
As I start on this second installment of The Adventures of Pequeño: The 150 Micron Particle, I wonder why I get myself into these serial onslaughts. However, a promise is a promise, so I shall press on.
You will recall from Part I: Sieve Certification, our little friend Pequeño, a particle on a determined quest to make it through sieves -- particularly those through which he should be too large to pass. In this scenario, Pequeño along with some of his family and friends -- all small particles about 150 microns in size -- are on their way to a sieve test.
Read More