Beat-up Consistometers
We have been told that some operators abuse the
Bostwick

Con
sistometer

.
These photos show the condition some of the units
we get in for repair. These are just a sample of bent leveling screw fixtures and other signs of rough handling.
We have

developed a solution that should overcome these problems resulting from
this mishandling.
Ruggedized Add-on For CSC Bostwick
We have developed a factory installed accessory (Abuse Protection Option) for the CSC Bostwick Consistometer. The accessory strengthens the leveling screw platform This overcomes much of the damage resulting from rough handling by operators.
The Abuse Protection add-on consists of a stainless steel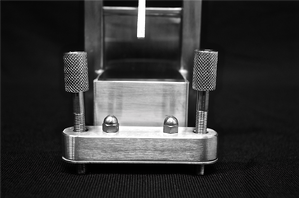 strengthening bar and new reinforced knurled leveling screws. The photo on the left provides a view of the parts and the assembled ruggedized option.
The Abuse Protection Option is only available as a factory installed add-on. It can be added to a new unit or when a repair has been performed by our service department.
An operating consistometer can be modified by sending it in to our facility in Merrifield, Virginia. A customer Care-Rep will be happy to provide you with a return authorization form to expedite the installation of the Abuse Protection Option.