Capacitance Based Moisture Instruments
This line of moisture sensors is based on principles of electro detection of moisture. Capacitance, other dielectric constants and radio frequency are the techniques used in these moisture detectors. The time for a test can be as little as six seconds.
These moisture meters are used in several configurations. The most common is where you load the material into a hopper, press a button and the moisture test is initiated and completed in seconds.
The Sinar capacitance based hand-held and portable bench-top moisture meters include these items:
The GrainPro 6070 is a Portable Bench-Top Moisture Analyzer to replace the AP model.
The GermPro

7010

is a fast and simple tool for measuring the enzymatic activity in germs or embryos of grain kernels and seeds.
| | |
| --- | --- |
| Bench Top Analyzer | Sinar GermPro |
The third item is this group is a SP 6600 Moisture Probe useful for sampling the moisture in storage bins or storage piles.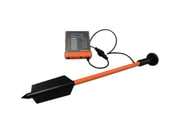 The SP 6600 Moisture Probe is used to penetrate into a stack, pile or holding container. The probe acts as a moisture detector at various levels in the stack of material. A single reading can be used as a quick go-no-go evaluation, or readings can be taken at varying depths to get moisture profiles.
The radio frequency, dielectric and capacitance moisture sensors offer the fastest and most convenient solution for measuring moisture content in many materials. For example: the design concept of the Sinar bench-top models is based on the simultaneous sensing of capacitance, weight and temperature of the sample being tested, providing accurate moisture readings in only a few seconds!
Many of these instruments have been designed to meet the needs of specific industries. To get information and recommendations for a moisture meter that meets your specific application; please contact us by phone at 800-621-4778, by fax at 703-280-5142 or by email at testsolution@cscscientific.com.
By filling out the sign up form on the right of this page and giving us information about your product and how the moisture analyzer will be used, we can give you recommendation by email. If you use the sign up form, you will also be subscribed to our distribution list of product information, application notes, how-to guides and special promotions.