We continue to search for answers to the question "Is Sieve Calibration Really the Holy Grail?" As promised,we present Episode III of the Pequeño saga. You may remember him as a very small (150-micron) particle with many similar-sized family members who are determined to defeat sieve certification.
In the first episode, he and his family were on the way to a sieve analysis. They had the objective of foiling the sieve test by passing through sieves with certified openings of less than 150 microns.
Episode II described Pequeño & Co.'s experiences in an actual sieve test wherein they got past the 150-micron sieve. Many even transited the 125-micron sieve, which is 16% smaller. The 106-micron sieve finally stopped most of them.
We now rejoin the story after the violent shaking stopped.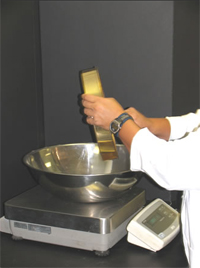 The testers removed the sieves from the stack and emptied the contents onto a balance to obtain a retained-weight distribution for each one. When they came to the 106-micron sieve, Pequeño and couple of his siblings did not drop to the balance, because they were wedged into some of the openings.
When the analysis was completed, a tech used a brush to remove any residual material in the 106-micron sieve. Most everything was cleaned out, but Pequeño was among the particles that were still wedged into openings. The tech saw them on a visual check and

gently pushed them through.
This unfortunately caused the mesh to spread, creating 150-micron openings in this 106-micron sieve -- much greater than the largest allowable opening of 141 that Brad (the Professional Sieve Certifier from the first episode) certified.
The next time, Pequeño and his 150-micron siblings are used in a stack that includes the following sieves:
#80 - 180 Micron

#100 - 100 Microns

#120 - 125 Microns

#140 - 106 microns
It is likely that many of them will find their way through the 106-micron sieve and fall on to the next-smallest-size sieve screen. This additional transit, is a result of the cleaning process. Most would assume, given that it is certified, that the 125-micron sieve would catch all of the150-micron particles. Not so. Worse still, a number of these will now pass through this 106-micron certified sieve, which has nominal openings 30% smaller than Pequeño.
Harry, the QC Manager from Episode II, has always relied on the

certification process to insure that his sieves would perform to high standards. He never evaluated the process from the view of a small particle with the mindset: "I want to get through everything and do not care how much error I create."
Only when repeated tests indicated result anomalies would Harry suspect a problem with sieve performance.

After he experienced Pequeño and his siblings' onslaught, Harry began to consider better methods of predicting and checking real-world sieve performance than certification.
Part IV of this series will explore alternatives for Harry to assess corruption of test results, perpetrated by Pequeño and family.
Until the next time, I continue to find new things in the world of material testing that baffle me.
Again we hope to be entertaining and helpful.
Art
P.S. If these musings on lab test equipment are engaging, please consider forwarding them to associates and subscribing.
P.P.S. Click on the button to learn more about Sieve Calibration.